Easy Printing Ideas to Try This Christmas!
in Permaset Blog
6 Nov 2018
|
0 Comments
Christmas is a wonderful time to spread love and cheer especially to those nearest and dearest to us. It's that one time of the year where we get to enjoy the company of family and friends and share our blessings through the giving of gifts.
Such a special season calls for giving not just any old gift you can get in a store– to show just how much your loved ones mean to you, it's best to give something extra special, like hand-made and personalised gifts!
Personalised gifts are extra special because of the time and effort you put into making them. Though they're often a lot less expensive than the gifts you get from a store, the end results can be priceless to those we give them to.
Create Personalised Printed Christmas Gifts!
Think you aren't creative or artistic enough? Creating personalised gifts can be incredibly easy with the help of Permaset Aqua water-based inks! These versatile screen printing inks can be used not just for screen or block printing, they can also be used for hand painting on all sorts of Christmas gifts and items, such as napkins, stockings, tablecloths, Christmas t-shirts, Christmas cards, tote bags and more! All it takes is a few ideas and materials to start.
Finding Inspiration
Before you start printing on your gift items, you'll need some design ideas first. There are plenty of traditional Christmas designs to choose from: Christmas trees, candy canes, mistletoe, Santa hats, reindeer, snowflakes, gingerbread men, just to name a few. When it comes to personalised printed gifts however, there's always room to explore other creative design ideas. A good way to come up with a unique design that you love and truly inspires you is to first create a mood board, which is a collection of images of things and patterns you like, and from this board come up with a theme or design. You could also look at books, magazines, postcards, online or in Christmas-themed shop displays for inspiration.
Once you've got an idea for a pattern or print, you can then proceed on placing them on your gift items through any of these methods:
Be Creative with Block Prints
Block printing is one of the easiest methods of printing, and can be done with a variety of inexpensive materials. Basically you'll need a block of wood or linoleum to make a 'stamp' of your design, which you will coat evenly with ink and press on to the surface where you'd like to produce your print.
You can buy ready-made Christmas-themed stamps at any craft store, or you could also make your own stamps. To make your own, you'll need a block of wood or linoleum and special carving tools you'll find at the craft store. If using these materials is much too intimidating, you can use vegetables instead! You can carve out your designs on a potato or carrot, however you'll need to blot the moist ends before using these as stamps.
To create your design, simply print or draw a picture of the design you'd like in reverse, and transfer this design onto the surface of your block of wood, linoleum or vegetable through a piece of graphing paper or simply tracing it with a box cutter. Take note that the design must be in the reverse when tracing, so that the print produced will be facing the right direction. Then carefully carve out the surrounding areas of your design so that the design will protrude and become a stamp.
You can now use your stamp to create block prints! When using your stamp, you need an even coat of ink on the surface of the stamp. You can do this by painting an even layer of ink onto a smooth, non porous surface or paint tray and then pressing your stamp or block onto this to transfer that even layer onto the surface of the block. You could also use a foam roller to place an even coat of ink onto the block. Make a few test prints on some extra pieces of cloth or paper before putting your prints on the final items. When placing your prints, make sure you apply an even amount of pressure throughout the stamp or block to get a smooth and even print. Once done, heat set your print to make it permanent.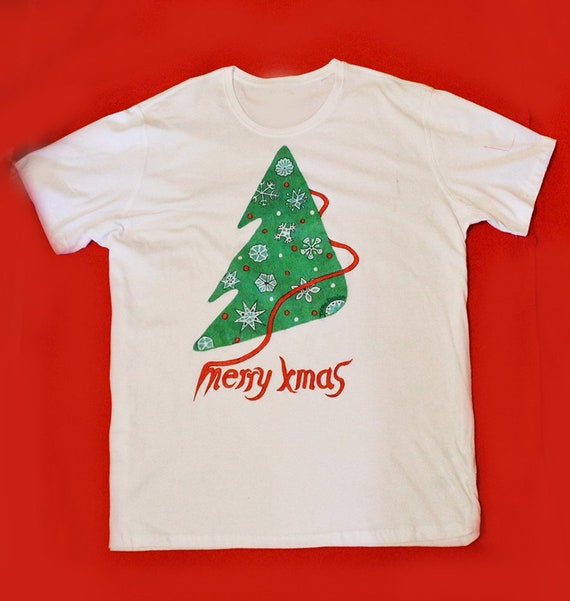 Try your hand at designing a hand painted Christmas T-Shirt like this one by TnTee Design https://www.etsy.com/au/listing/637144848/mens-christmas-t-shirt-handpainted
Try Your Hand at Hand Painting
Block prints enable you to easily make charming random patterns or minimalist designs. If you want something a little more special and personal however, why not try hand painting? Hand painting gives you greater freedom in terms of design and does not have to be perfect in order to have an impact. Painting words or letters in your own handwriting is enough to make an item look chic, and your own handwriting makes it incredibly personalised.
If you're also quite skilled at painting, hand painting gift items is a great way to go. It'll immortalise your mini works of art onto gift items and make them even more valuable especially to the recipients.
To start hand painting, all you'll need are Permaset Aqua water-based inks and a few paintbrushes, and your design idea of course! You'll also need some drop cloths or newspapers surrounding the area where you'll be painting. Let your imagination and creativity run wild with this one! You could paint a whole Christmas scenario, or make it as simple as a Christmas greeting in your own handwriting. Once done, make sure to heat set your print to make it permanent.
Stencils for Superb Holiday Designs
If you're not into block prints or hand painting, you can always use stencils instead. With Permaset Aqua's Christmas mini pack, you get four festive Christmas colours plus 12 Christmas stencil designs when you use the QR code on the pack. These stencils make printing Christmas designs fast and easy, so you can create several Christmas themed cards, calendars and other gift items in no time. Click here to view the Permaset Christmas Stencils.
There are two ways you can use these stencils. The first is by using them directly to print onto the object where you'd like your print to be. You do this by positioning the stencil flat on the item to be printed on, and then once you're satisfied with the position, taping it to the object using painter's tape and/or double-sided tape. Make sure that all the edges of the stencil are secured but that the tape is not going into the area where you expect your print to be.
Once your stencil is secure, you then pour a small amount of Permaset textile ink onto a painter's tray or suitable alternative and dab your paint brush or sponge into the ink. Then carefully dab the brush or sponge inside the stencil, where the pattern is, making sure not to let the ink go beyond or under the stencil while doing so. Once the stencil design has been completely inked, let it dry some before removing the stencil. You may add another coat of ink if you wish, or add finishing touches with a paintbrush.
Click here to purchase the Christmas Mini-Pack from Eckersley's Online Shop
The second way you could use these stencils is through screen printing. Screen printing produces a much sharper, cleaner and more even print than using the stencil alone. To start, first trace and cut out the design of the stencil onto a piece of clear film using a craft knife or cutter. Once the design has been cut, secure the clear film onto the outer surface of a printing screen with masking tape, making sure that the film fits the entire edge of the screen frame. Also take note that the film must be placed in reverse, so as to print the design facing the right direction. You may then proceed to screen print your design onto your desired object. Position your screen where you want your print, then place a sufficient amount of ink on the inside of the screen and distribute this evenly across the design using a screen printing squeegee.
Once you've thoroughly inked over your design on the screen, carefully remove the screen and of course, don't forget to heat set your print.
Get into the holiday spirit by printing personalised gifts! Get started by getting Permaset Aqua's Christmas Mini Pack now! Permaset Aqua's Christmas Mini Pack is available in Eckersley's Art & Craft stores  throughout Australia.
You could also click here to buy online: https://permaset.com.au/product/christmas-mini-pack-permaset-inks/