Hear about Friendly Arctic Print & Design's journey from humble beginnings in a garage to the large scale commecial screen printing success it is today
2008, Andy Bird started Friendly Arctic Printing and Design out of his home in Nashville, Tennessee. As a husband and wife team, Friendly Arctic offered high end custom clothing printed with environmentally-friendly inks. Fast forward 14 years and five locations later, Friendly Arctic has maintained its original vision while seeing business flourish both locally and online. Now run by Andy Bird and Brendan Moss, Friendly Arctic specialises in high quality screen printing as well as full service marketing campaigns for clients.
Before starting Friendly Arctic, Andy had worked at other print shops using various types of inks including plastisol. Once he created his own business, the health and well-being of his family was his biggest concern.
"Since I was working out of my home, I didn't want my family exposed to the chemicals associated with plastisol inks and screen cleaners" says Andy.
Now a company with 20+ employees, the new screen printers they hire learn to print only with water-based inks, and both the screen print team and their customers benefit from having a more environmentally sound printing solution.
Our eco-friendly process: the purpose of T-Shirts at Friendly Arctic
Whether as a uniform, a promotional item, or just a way to make a statement, Friendly Arctic believes that T-shirts should be made to be worn. There is nothing promotional about an article of clothing that people only wear once. A good looking, comfortable Tee will promote your band, brand, company or event to both the wearer and everyone who sees it. An uncomfortable and poorly designed T-shirt will only be seen inside the closet or at a thrift store. At Friendly Arctic, they pride themselves on making things that serve a purpose and serve it well. They're into slow fashion, not fast fashion.

The environmental choice
Friendly Arctic are committed to providing excellent quality in all that they do, as well as maintaining environmental integrity throughout their production process. They have researched the most environmentally-friendly options available for screen-printing and have implemented as many as possible into their work practices.
Why we use water-based Inks
Most screen-printing shops in the U.S. use plastisol inks. However, these inks contain PVC, phthalates and other toxic chemicals which are not only damaging to the environment but have also been connected with many medical illnesses. Screen-printers continue to use plastisol inks because they were historically cheaper, they were seen as easier to use and the conventional view (actively fostered by plastisol producers) was that they provide a better quality print than their water-based counterparts. Notwithstanding the adverse environmental consequences and health issues related to the use of plastisols and the harsh solvents necessary for their clean-up, they've been utilized simply to save a time and money. These are environmental and health sacrifices that Friendly Arctic were not willing to make.
Water-based inks do not contain PVC, phthalates, lead or any other toxic chemicals. They do not require the use of hydrocarbon or other solvents to clean screens and squeegees (all you need is water) and they can be safely disposed of. They do require more care to work with because they dry more naturally through evaporation and can also take longer to cure properly in the drying tunnel.

Friendly Artic say their customers are pleased when they see and feel the final product and realise that you no longer have to sacrifice outstanding quality for environmental responsibility. PERMASET Inks were developed specifically to provide an environmentally-friendly product that achieves exceptional opacity, brightness, vibrancy of colour and durability.
Vendors from the screen print industry pass through the Friendly Arctic shop and look in disbelief. They'd always been told that it's not possible to get such a great white using water-based inks! One distributor even took on PERMASET Inks after seeing how well the white went down on a black T-shirt.
Growing organically
Friendly Arctic's business has grown organically through the support of their local community. As small Nashville businesses get up and running, they seek out local companies for services. Advertising, in the form of people wearing Friendly Arctic designs, has also brought in new business. It starts with a T-shirt designed for a local event. That T-shirt is seen by a musician who wants posters for a concert.
Poster printing
Nashville has a rich printing history that dates back to the late 1800s. A style known as "Hatch Show Print" is synonymous with the show posters of the American South. Started by two brothers in 1879 and still in business today, Hatch Show Print letterpress print shop has created posters for Grand Ole Opry, Johnny Cash and Hank Williams to name a few. Andy explains that the "Hatch Show Print" style has become the style of the city and continues to influence artists and designers today, including himself. Some of the posters that come out of the Friendly Artic Print Shop are collectible works of art, printed on gorgeous French papers. As well as fine paper, the team at Friendly Arctic print on wood and other substrates using PERMAPRINT Premium water-based inks.
Many of the posters that are designed and screen printed by Friendly Arctic in Nashville are collectible works.
The Radnor Lake poster is printed on wood using PERMAPRINT Premium Ink.
Friendly Arctic also produce gorgeous art prints for clients using PERMAPRINT Premium Inks.
Automatic and manual screen printing presses
Although they still use manual presses at times, depending upon the job, Friendly Arctic now typically use a range of automatic machines for their output.
Is not unusual for Friendly Arctic to print posters, T-shirts, hoodies, bandanas, totebags and now even facemasks for an event – the entire range of merchandise. Friendly Arctic Printing and Design is known for its creative, high quality and environmentally-friendly service. It is both a commercial print shop and a design studio that provides innovative marketing tailored to their customers' needs. Their style may be uniquely Nashville but their ethics are global.
"Going above and beyond" has set Friendly Arctic apart from their competitors. The shop provides higher grade garments, uses exclusively PERMASET water-based inks and offers creative and innovative marketing solutions for its clients. Andy recently appeared on National Public Radio's On Point as part of a local green business segment. After the program aired, large national clients contacted Friendly Arctic interested in doing business with them.
Fnd out more information about the PERMASET Inks range
Learn more about Why Trade Printers choose PERMASET Inks
Or to help you decide, read 6 good reasons to change to water-based inks.
©COLORMAKER INDUSTRIES 2022.
Subscribe to get the latest inspiration, news & advice direct to your inbox
How Clothing Label Earthie Prioritises Sustainability
Clothing label I'm Earthie shares how they strive to be a truly sustainable brand
How Clothing Label Earthie Prioritises Sustainability
Clothing label I'm Earthie shares how they strive to be a truly sustainable brand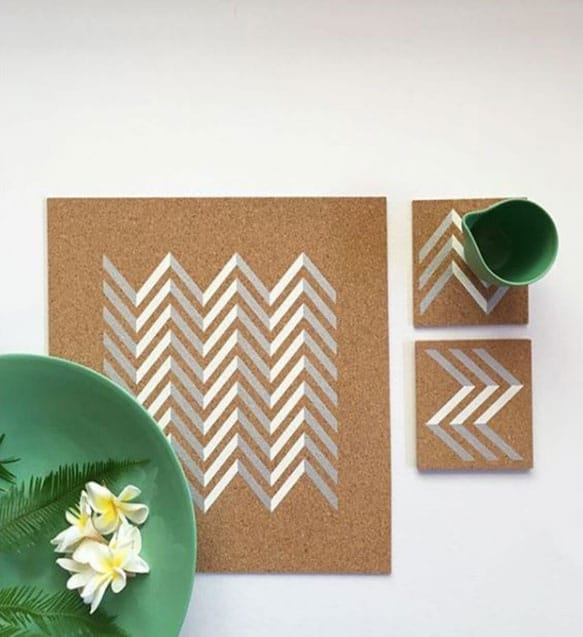 Creating Beautiful Artworks with Permaprint Premium Inks
Learn how designer Caroline Di Costa produced a range of homewares using PERMAPRINT Premium inks
Creating Beautiful Artworks with Permaprint Premium Inks
Learn how designer Caroline Di Costa produced a range of homewares using PERMAPRINT Premium inks
There are no results to display. Please try a different keyword or reset the filters to see everything.