---
Good Housekeeping Practices in Screen Printing Series : Ink Hygiene
At Colormaker Industries, we're all about the environment. Back in 2003/04, we developed PERMASET® Aqua inks, one of the first 100% solvent free textile screen printing inks in the world. Later, one of our water based inks became the first from outside the UK to achieve (organic) GOTS Approval from the prestigious Soil Association.
Old technology inks, included plastisol and the early water-based inks that contained 10-35% white spirit (distillate), were almost bullet proof when it came to microbial attack and shelf life. By comparison, while the newer water based inks are definitely eco-friendly, a flip side of that coin is that they can actually sustain microbial life and in a print studio, this can be manifest as mould, fungal and bacterial infestation.
So, in much the same way as you'd need to maintain good hygiene and housekeeping practices in a food preparation area, so too in a screen printing environment, a few key housekeeping practices can help you produce brilliant screen prints with water based inks while benefitting yourself, your family (if printing at home), your students (if on campus), your staff (if printing commercially) and of course, the environment.
Explore these key tips for good housekeeping when screen printing, whether you're printing commercially, on campus or at home.
Ink Management
When preparing for your print job, ensure that you have sufficient ink on the screen, but not too much. Knowing how much is enough will come with experience, but particularly with longer jobs, it is much better to keep adding ink to the screen as needed rather than trying to load the screen up at the start with all the ink that you need for the entire job.
Water based inks are more sensitive to shear on the screen and water evaporation over time, particularly from thin films and particularly when the ambient humidity is low. For both reasons, the inks are likely to thicken up. Two handy hints can help here. First, keep a spritzer bottle handy and spray a fine mist over the ink film following the flood stroke. Second, keep topping up the reservoir of ink on the screen with fresh ink.
Reusing screen print inks
Unlike with plastisol printing, you'll need to factor in clean up time at the end of every print job and/or printing shift. Once the print job is finished and you're ready to clean the screens, leave each screen well flooded, perhaps with yet another mist of water, until you can give it your undivided attention. DO NOT work on more than one screen at a time. This is because a thin film of ink on otherwise bare screen printing mesh can dry in and become a lot more difficult to remove. So, save yourself a lot of work down the track and leave the screen flooded to prevent this from happening.
Once you do start to clean up, it's important to work quickly. DO NOT return used ink to the original pail or tub. Have on hand a good collection of clean, resealable, air-tight containers and a permanent marking pen.
Using the squeegee, remove as much ink as possible from the screen and scrape into the clean tub. Then use a card or smaller spatula to retrieve ink from the harder to get at corners. Place the screen in the washout area and saturate.
With the recovered ink, record on the outside the date, recipe, job number (if relevant), approximate quantity and operator initials. Ensure that the lid is secure and that the seal is air-tight. Store in a cool, well ventilated area and out of direct sunlight. If well stored, this recovered ink can be used years later, although as the years get on, it would be increasingly advisable to run a test print and check for adequacy of cure with a quick wash and rub test. Can you reuse screen printing inks, and how long do they last? While this varies from brand to brand, here are some general guidelines for PERMASET inks.
How long can you store screen printing inks?
Once opened, PERMASET screen printing ink and mixes should last up to 12 months and usually longer if well stored. What's most important is to ensure that the lids have an airtight seal and that no biological contaminants have entered the ink. As above, we recommend labelling inks with the date, mix formula, the job number if relevant and the operator initials to help you keep track of batches. All of the above are sound quality practices.
Inks older than 12 months can still be used, but with increasing age comes increasing risk around wash resistance and other durability measures. Thus, it is good practice to run a test print and check for adequacy of cure as above.
Tips for extending the life of screen printing inks
What can you do to get the best life out of your screen print inks? Here are a few key tips.
Ensure ink lids are kept on tightly, and wipe any debris or dried ink from the rim before resealing containers.
If recovering ink from screens, store this in a clean, spare container, separate to the original and use this batch at the start of the next run.
Aim to keep humidity in the print room above 40% R.H. and ideally over 50% R.H. so that inks are less likely to dry out in the screen.
PERMASET Print Retarder can be used to slow the drying of PERMASET and other screen printing inks, which may increase the amount you can reuse. However, two issues arise. First, you'll increase the amount of energy needed to cure the inks and second, you'll need to write on the outside of the container how much retarder has been added, both to the original tub and on the second container if recovering the inks from the screen at the end of the print job.
Store your inks in a cool, dry, well-ventilated place, out of direct sunlight and away from sources of heat. Try to find somewhere with minimal diurnal temperature fluctuation. This is very important and will go a long way to ensuing the longest possible life of your recovered and stored inks.
Diurnal temperature fluctuation is defined as the difference between daily maximum and minimum temperatures or the difference between day and night. As the ink warms, it starts to sweat and gives off water vapour. As this cools, the water vapour condenses on the underside of the lid and drips back onto the top of the ink. This layer contains very little preservative and, as a consequence, is much more susceptible to microbial growth; in fact, it's almost an ideal environment for growing mould cultures.
The biggest source of water-based ink spoilage is biological contamination, so the proactive practice of good hygiene will help minimise contamination and the resultant ink waste from such infestation.
Screen printing safety & hygiene
Follow these simple tips to maintain a safe and sustainable screen printing workshop.
Hand hygiene
It's best practice to encourage the entire print team to wash their hands both before and after working with any screen printing inks, even if they are non-toxic like PERMASET. Good hand hygiene can not only minimise biological contamination, but it also avoids ink spreading to where it's not wanted.
Flaking from lids
Flaking is less likely to happen with inks than with concentrates, but in the latter case, it can be a real issue. If you notice flakes of dried up concentrate when you open up a bottle, then first, you should probably wear a mask to prevent inhalation of particulates. As concentrates are super intense anyway, flaking should be eliminated by wiping the neck of the bottle with a damp clean rag or sponge before closing the cap each time. When using inks, follow a similar practice to prevent the formation of skins. Both flakes from concentrates and skins from dried up ink can create problems with producing good quality screen prints if they get onto your screens undetected during a print run.
Odours with older mixes and ventilation
Screen printing inks sometimes give off a stronger smell after being stored for a while than when they are newly opened. If the ink has the characteristic PERMASET smell, then it should be OK. However, if it smells slightly (or a lot) off, then that's probably an indication of microbial contamination starting to break down the ink and giving off bad smells in the process. Regrettably, the best thing to do in this case is to discard the ink. Some printers over the years have tried to salvage the ink and ended up with prints that just smelt awful. That's not really something that you'd want to risk, either for yourself or for a customer. Put it down to experience and practice better ink hygiene next time.
Whilst we're talking about smells, it's a good opportunity to re-state the need for good ventilation in the workplace at all times. Fresh air is excellent, but that may not always be practical or advisable if there is a lot of airborne contamination like dust or pollen. A good ventilation system would be the next best thing.


However, you can breathe easier knowing that all PERMASET and PERMAPRINT Premium inks are free of phthalates, VOCs and Vinyl Chloride Monomer (VCM) whilst curing.
Films on the top of the ink
If you notice a film has formed on top of the paste, this may be a sign of biological contamination. If there's a metallic sheen, a bad odour, evidence of mould or any combination of the above, then that's an indication of microbial contamination and the ink should be disposed of responsibly as discussed above.
If, however, the film is just clear water, then look at the underside of the lid and check to see whether there's any condensation there. If so, that's good news, but only up to a point. The good news is that the ink is probably NOT contaminated and should be restored by stirring the surface moisture into the ink until completely reincorporated.
However, the bad news is that this is a symptom of poor storage with diurnal temperature fluctuations causing the ink to sweat, causing condensation on the underside of the lid and that falling back on top of the ink. Unfortunately, that clear layer of water is largely unpreserved and that presents an ideal warm and moist environment for the propagation of microbes, eventually leading to bacterial, mould or fungal growths that lead to ink spoilage and waste. So there you have it – a handful of tips to keep your inks in top condition for longer and your screen printing shop safer for all.
Especially for premade pastes as mentioned above? In the past we have noticed that some containers begin to have a mouldy top layer which we just scoop off and then use the rest of the printing paste.
Have more questions?
Explore our FAQs for answers to commonly asked queries, or contact our team or PERMASET stockists today.
Subscribe to get the latest inspiration, news & advice direct to your inbox
How Clothing Label Earthie Prioritises Sustainability
Clothing label I'm Earthie shares how they strive to be a truly sustainable brand
How Clothing Label Earthie Prioritises Sustainability
Clothing label I'm Earthie shares how they strive to be a truly sustainable brand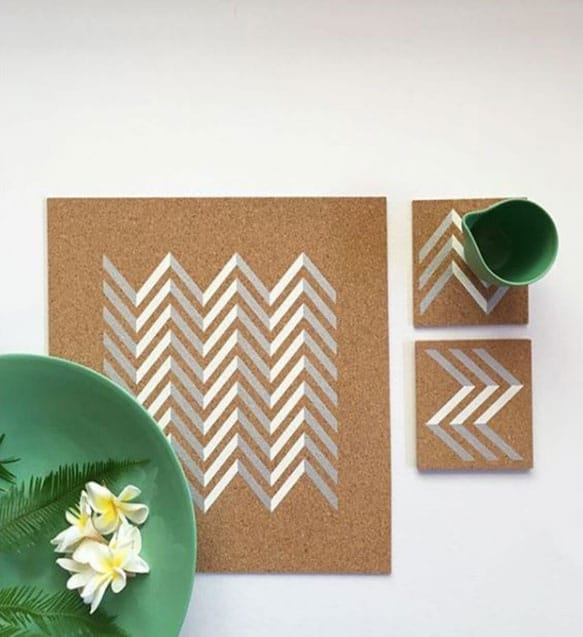 Creating Beautiful Artworks with Permaprint Premium Inks
Learn how designer Caroline Di Costa produced a range of homewares using PERMAPRINT Premium inks
Creating Beautiful Artworks with Permaprint Premium Inks
Learn how designer Caroline Di Costa produced a range of homewares using PERMAPRINT Premium inks
There are no results to display. Please try a different keyword or reset the filters to see everything.