The best screen printing inks for today's fabric printer
The best screen printing inks for today's fabric printer
Standards for screen printing inks have changed tremendously over recent years. Where coverage, colour and ease of use were once the only considerations, today printers are more discerning. Many other factors matter today. Hand feel of the print on fabric, versatility, durability, health concerns and environmental impact now loom large in the mix as additional considerations. When these are also taken into account, it can seem daunting to find an ink that ticks all these boxes……but help is at hand! Water-based inks meet almost all of these requirements.
WATER-BASED INK: TOMORROW'S INKS TODAY
Some of today's water-based inks are easy to use and can deliver pure, intense colour that surpass that of Plastisol inks. Water-based inks give a much softer feel and, because they are water-based, many contain no harmful chemicals, certainly none like PVC and phthalates and they don't need organic solvents to clean up after printing.
Environmental impact is particularly important to consider when choosing screen printing inks. Our environment has never been more fragile than now, so every move we make counts in contributing either to the problem or to the solution. Water-based inks represent a more eco-friendly option, ultimately making them the best ink choice for screen printing today.
OUR TOP 4 WATER-BASED SCREEN PRINTING INK PRODUCTS
PERMASET AQUA Standard & Glow Colours

PERMASET AQUA Standard colours and PERMASET AQUA Glow colours are by far the best loved of PERMASET's Inks, and for good reason. For the customer, they come in a broad range of colours, all with exceptional depth. Based on the finest carefully selected pigments and advanced polymer technology, PERMASET AQUA Inks deliver vibrant colour, great durability and an irresistibly soft handle. For the printer, they can be used straight from the tub and are excellent for printing onto light coloured fabrics and textiles. And of course, with neither heavy metals nor toxic nor ozone depleting chemicals, they're safer for both the printer and for the environment.
PERMASET Inks come in two broad ranges; PERMASET Standard (transparent) inks and the PERMASET SUPERCOVER (opaque) ranges to cater for printing onto either light or dark fabric. Both ranges feature the fantastic Glow colours that grab attention with their vibrancy. PERMASET AQUA Inks can be used on a full range of fabrics including Cotton, Silk, Hemp, Wool and most synthetic fabrics, including Polyester, all without any additives!
Low odour, easy to clean, rich, vibrant, vegan and eco-friendly to boot, PERMASET AQUA is truly the ink of the future for today's printer. PERMASET AQUA ink ranges are revolutionary in that they were amongst the first water-based inks to offer superior performance and eliminate the historical trade-off between performance on the screen and post-production performance of the finished garment. This includes user comfort and safety, as well as environmental sustainability. It passed the Oekotex Class 1 test, with the PERMASET AQUA Process Colours having been granted formal Organic Approval (Global Organic Textile Standard; GOTS) by the Soil Association of the UK.
PERMASET AQUA Screen Printing Kit
This is the perfect beginner's screen printing kit. Complete with a silk screen, a squeegee, 6 jars of PERMASET AQUA ink, masking tape and instructions, it'll have you screen printing like a pro in no time! The PERMASET AQUA Screen Printing Kit comes with the PERMASET Ink Standard colours that are 100% solvent-free and deliver intense colour and with beautiful coverage. Once heat set, these colours are both soft and strong – soft to the touch yet resilient even in the most severe rub and wash tests. With the PERMASET AQUA Screen Printing Kit, you can immediately start printing your own designs on a variety of light-toned fabrics made of natural or synthetic fibres.
PERMASET Metallic Inks

PERMASET Metallic inks form part of the PERMASET AQUA range and offer superb coverage in Gold Lustre, Copper, Silver and Pearl White. When you require your prints to stand out without being too over the top, the PERMASET Metallics range are the perfect products. Made with the same eco-friendly water-based formula, the Metallics are totally free from harmful chemicals but offer exceptional brilliance and durability. The PERMASET Metallics also deliver a lovely soft print which is comfortable to wear and may be printed on dark fabrics without using an underbase.
PERMASET AQUA Foil FX

When you want to achieve a higher level of sparkle to your printed designs, PERMASET AQUA Foil FX are the way to go. PERMASET AQUA Foil FX are able to achieve a striking, sparkling look in Silver, Gold, Copper and Blue that is ideal for printing designs like sequins and is most effective on dark fabrics. PERMASET AQUA Foil FX has remarkable light reflecting capabilities because of the large flake size in the ink. However, this means that specific adjustments must be made when using the inks. Firstly, a much more open mesh of 20 – 24T (50 – 61 tpi) is required to accommodate the large flakes. Secondly, care must be taken in caring for the printed item. Because of the large flake size, wash and rub resistance can be poor. Last, it's best to use these inks in designs with smaller, broken up shapes/elements (as illustrated above). When these inks are used in large solid shapes, stretch is compromised and the pattern of the large mesh can be clearly see
WHAT TO LOOK FOR WHEN BUYING SCREEN PRINTING INK
If you're still wondering which ink is the best choice for you, here are the basic things you should consider:
• Quality – First consideration is the quality of your ink. You want to make sure that the ink offers rich, vibrant colour, superior coverage and permanence once heat cured. PERMASET inks are professional quality and available in convenient starter sizes, so you can dive in at the deep end and grow your business with the one ink from the very beginning.

• Substrate Compatibility – Your ink must be compatible with the material that it's going to be printed on, otherwise the print may fade or not look the way you want it to. If you're not sure which inks are suitable for a certain substrate, it's best to make contact with your PERMASET stockist to walk you through what you're trying to print on and what you want to achieve.

• Brand – When it comes to screen printing ink, brand matters. Established brands like PERMASET® Inks have gone through decades of product development and continuous improvement, so you know that you can rely on them as many screen printing professionals already do.

• Your Design – You have to consider your design when choosing your ink. Water-based inks can be used in both detailed designs and larger printed blocks of colour because of their finer consistency. If you're seeking a print with a softer hand feel, water-based inks are also miles ahead as the technology of choice.

• Colours – You must also consider the colours you'll need in your design. You may also have to consider any other type of ink you may want to use, for example if you wish to use a bright, neon (or glow) type of ink or one with a metallic or sparkle finish. PERMASET Inks tick all these boxes; from the vibrant transparent colours of the PERMASET AQUA Standard Colours range, through the unsurpassed opacity of the SUPERCOVER range, PERMASET Inks also deliver Glow inks, Metallic inks and the ground breaking Foil FX range.

• Environmental & Health Impacts – You should also consider the inks' environmental impact, and its impact on your health too. You'll want to choose screen inks that are free from harmful chemicals that could be detrimental. All PERMASET Inks clearly the best choice. They are made with 100% renewable energy and contain no toxic chemicals and zero carbon footprint.
To find your closest PERMASET supplier, visit the PERMASET Stockist Search or Buy PERMASET Inks online here
©COLORMAKER INDUSTRIES 2022.
Subscribe to get the latest inspiration, news & advice direct to your inbox
How Clothing Label Earthie Prioritises Sustainability
Clothing label I'm Earthie shares how they strive to be a truly sustainable brand
How Clothing Label Earthie Prioritises Sustainability
Clothing label I'm Earthie shares how they strive to be a truly sustainable brand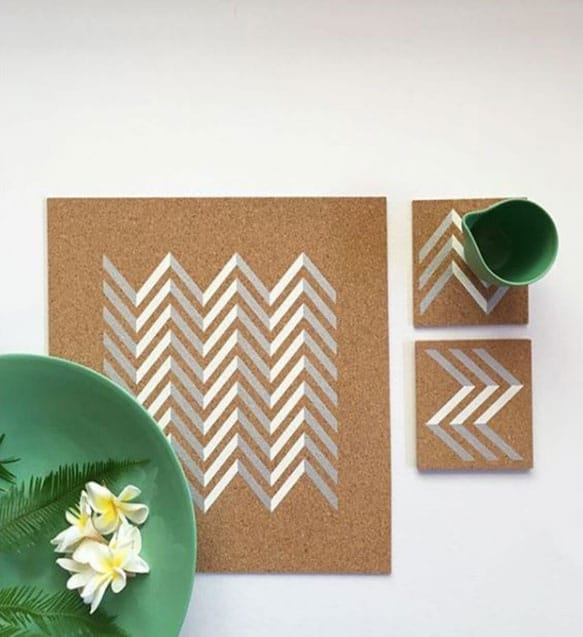 Creating Beautiful Artworks with Permaprint Premium Inks
Learn how designer Caroline Di Costa produced a range of homewares using PERMAPRINT Premium inks
Creating Beautiful Artworks with Permaprint Premium Inks
Learn how designer Caroline Di Costa produced a range of homewares using PERMAPRINT Premium inks
There are no results to display. Please try a different keyword or reset the filters to see everything.